HD Forest analysis of the conifer pulpwood market in Estonia
Author: Joakim Bisgaard Jensen, Published: 12/09/2022 10:00:00
Conifer pulpwood prices in Estonia have increased in 2022 from a low point in 2021. The price varies – influenced mostly by proximity to nearest harbor.
Pulpwood, mainly used for the manufacture of paper, is a major timber product in the Baltic forestry. We have made an analysis on the variation in the market price for conifer pulpwood in the mainland of Estonia for respectively 2021 and 2022 (see below).
The two years have totally different market situations: In July 2021, the conifer pulpwood market was at a low point: European bark beetle damages decreased the prices all over Europe, and the demand was low. In 2022, in contrast to 2021 the demand and the prices are high. The war in Ukraine has had big impact on price, and we see an ongoing increase in demand.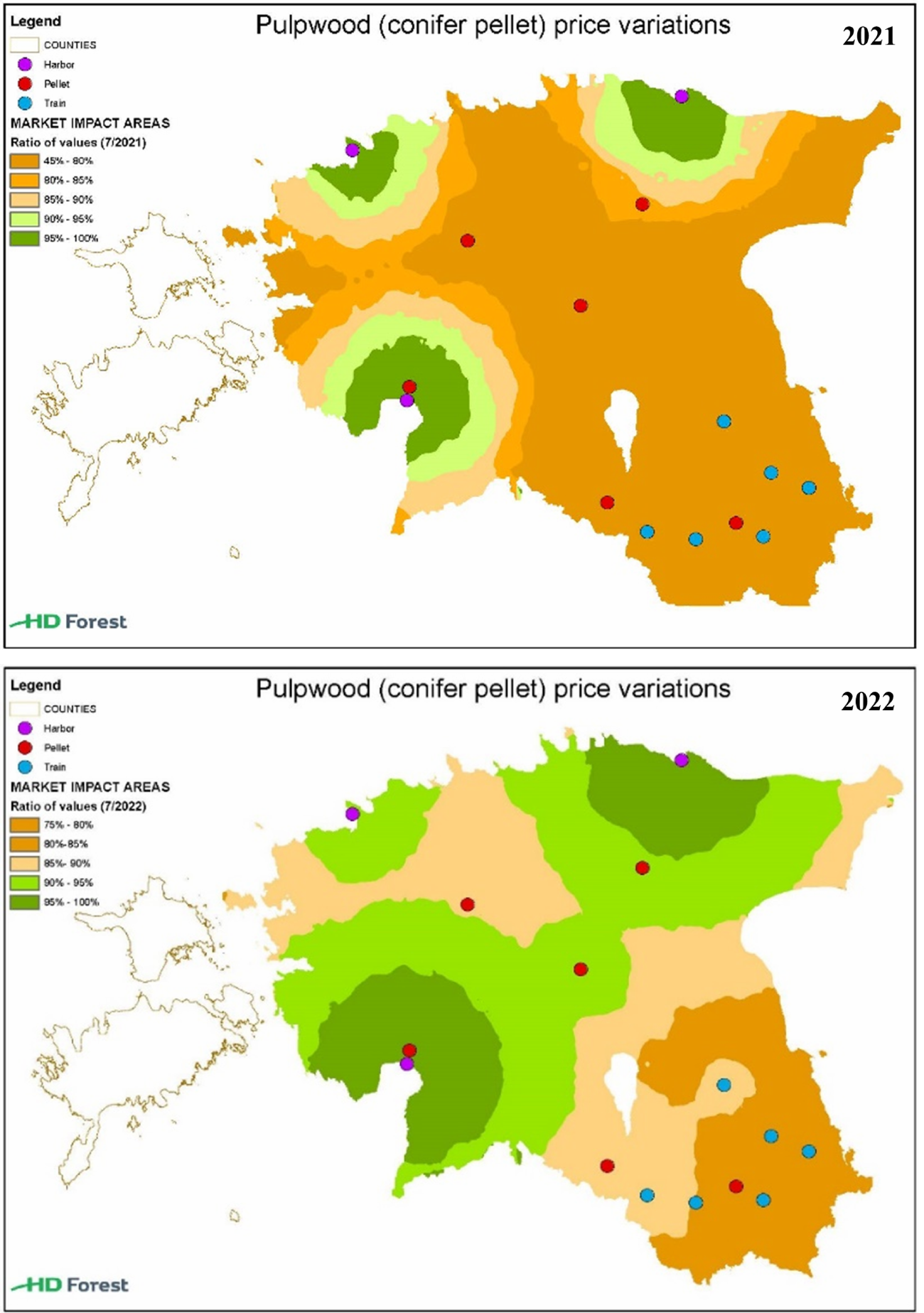 Conifer pulpwood price variations in 2021 and 2021
Source: HD Forest AS managed properties and market information; Estonian Land Board
Understanding the price variation map
The variation in market prices for conifer pulpwood is shown on the maps in different colors. The dark green colored areas have the best prices, whereas the red-brown color represents the lowest prices for conifer pulpwood in Estonia. Harvest and transportation costs are included in the analysis of the market price.
The 'Ratio of values' (%) shows, how big a proportion of the current market impact areas is covered with the maximum price. Best price of the market is obtained in the ratio between 95% - 100%.
In year 2021, lowest price variation ratio was 45% and in 2022 the lowest price variation ratio is 75% - indicating an increase of the overall market price.
Harbors are marked on the map with magenta colored dots. They clearly influence the market price of conifer pulp wood, though the impact is smaller in 2022.
Overall the variability of the pulpwood prices is smaller in 2022, than it was in 2021.